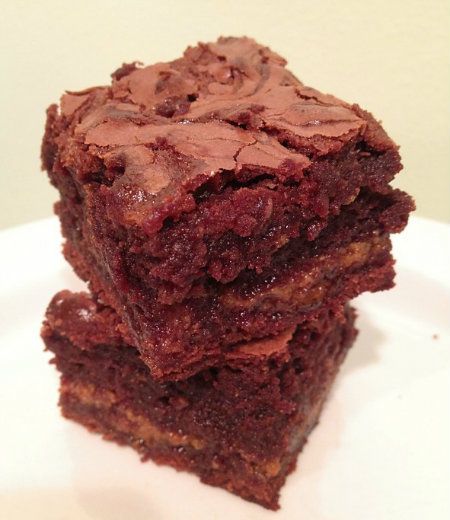 There are some classics that you just shouldn't mess with. Everyone has a favourite movie or song that they would be devastated if someone dared to rework. When it comes to baking there seems to be a never-ending list of recipes that are reworked for every new generation. I guess that's one thing that appeals to me in the baking world. Once you've mastered a classic it's usually quite easy to adapt it to suit your needs or even come up with something even more delectable.
For the first three or four years after I started baking in earnest I just could not make brownies that I deemed nice enough to serve to anyone (even my family) They were dry or over-baked or tasteless. I finally found a recipe that I liked and after much experimentation I learned to not be scared to take them out while they were still gooey in the middle.  Once I had mastered these treats I was then too scared to adapt the recipe for fear that I'd lose the ability to make them.
However, classic brownie recipes are ripe for reworking. So many delicious treats can be added to the basic batter to enhance the richness of the chocolate & counter the sweetness (there is a LOT of sugar in these bad boys) I found a David Lebovitz version of Dulce de leche that is baked in the oven and it got me daydreaming about salted caramel and the salt/sweet combination. My mum had also bought me mini Rolo's for my birthday so I decided I'd like to incorporate those into the mix. You can never have too much caramel, am I right?!
Salted Dulce De Leche Brownies
Make your caramel in advance and let it cool. I made mine the day before so that I wasn't waiting until late at night to make my brownies.
Adapted from David Lebovitz – Dulce de Leche 
Preheat the oven to 425° F (220° C).
Pour one can (400 gr/14 ounces) of sweetened condensed milk (not evaporated milk) into a glass pie plate or shallow baking dish. Stir in a few flecks of sea salt (I added three large grinds of sea salt, I'd definitely add more next time as I felt like it could use it, add to suit your own taste)
Set the pie plate within a larger pan, such as a roasting pan, and add hot water until it reaches halfway up the side of the dish.
Cover the dish snugly with aluminum foil and bake for 1 to 1¼ hours. (Check a few times during baking and add more water to the roasting pan as necessary).
Once the Dulce de Leche is nicely browned and caramelized, remove from the oven and let cool. Once cool, whisk until smooth.
Store in the refrigerator until ready to serve. Warm gently in a warm water bath or microwave before using.
Classic Brownies
200g good quality plain chocolate
250g unsalted butter, softened
550g caster sugar
2 teaspoons real vanilla essence
4 large eggs, lightly beaten
170g plain flour
4 tablespoons cocoa powder
100g mini rolos (optional – I normally use dark choc chips)
– Preheat oven to 180C (350F)  Grease & line two tins approx 20cm X 25cm (or one large Brownie tin) Make sure the baking paper reaches above the batter, this helps when removing the brownies to cool.
– Break the 200g chocolate into pieces and melt by your preferred method, either in a heatproof bowl over a pan of steaming water or in the microwave in short bursts.  Leave to cool until needed.
– Cream the butter either with a wooden spoon or in a mixer until soft, add the sugar and vanilla and continue beating until the mixture is soft and fluffy.  Gradually beat in the eggs then beat in the melted chocolate.
– Sift the flour and cocoa onto the mixture and stir in.  When thoroughly combined add the mini Rolo's and stir in. Split half the batter between the two tins and spread evenly, warm the dulce de leche and drop tablespoonfuls onto the batter, leaving a few spoonfuls for the top. Gently swirl but be sure to leave large pockets of caramel (I swirled too much and lost the pockets!) Add the rest of the batter to cover and drop the final spoonfuls of caramel on top, lightly swirl again.  
– Bake in the preheated oven for about 25 to 30 minutes until a skewer inserted halfway between the sides and centre comes out just clean.  Remove the tins from the oven and leave to cool in the pan for 10 – 15 minutes. Once they're removed from the pan let them cool until they are firm enough to slice.  Once completely cold, store in an airtight container and eat within 5 days (yeah right, like they're going to last 5 days!)